About The Boardman Neighborhood, Traverse City
The Boardman Neighborhood stretches from Boardman Ave. on the West to Railroad St. on the East. It runs North to Front Street and South to 8th Street. The neighborhood association does not include, by intent, any of the businesses housed with their geographic boundaries but there are several.
The Boardman Neighborhood has lots of summer activity at the Little Fleet where food trucks abound and F&M Park where numerous summer and winter festival activities are hosted.
Several bed and breakfast options (like The Wellington Inn) are found in the Boardman Neighborhood along with Holiday traditions like the famous Christmas Eve luminaries.
Government Center of Traverse City, Michigan
The City of Traverse City and GT County share the government center which resides at 400 Boardman Ave. just West of the actual neighborhood boundaries. Both local and federal courthouses also reside in this complex along with the offices of Traverse City Area Public Schools.
Schools Serving the Boardman Neighborhood
There are several public school choices for the Boardman Neighborhood. All of these schools can be accessed by foot but also have bus transportation available:
(Two blocks off the intersection of 7th and Union St.)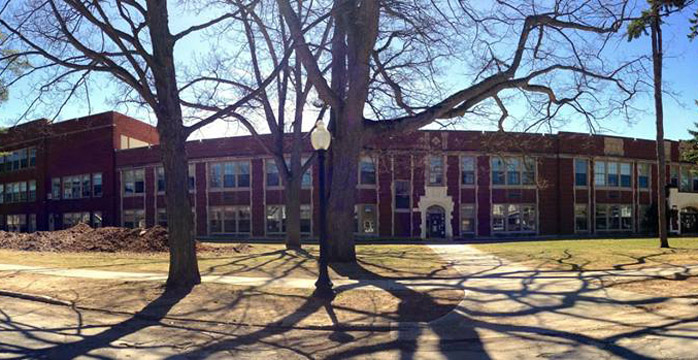 This is the largest (by square footage and population) elementary school in the district. It is also the oldest school have once served as the only high school serving the Traverse City area. It currently houses a traditional K-5 school population along with the TCAPS TAG (Talented and Gifted Program) and several pre-school classes.
(On the TCAPS school campus off Eastern Ave. near TC Central High School)
Another very active and academically excellent K-5 elementary school with pre-school programs. Eastern is due to be completely rebuilt in time for fall 2018 occupancy making it (soon) the newest of all the TCAPS facilities.
Traverse Heights Elementary
(Located on Rose Street south of 8th in the Traverse Heights neighborhood)
A K-5 elementary school with pre-school programs. TH will be introducing a new and very exciting IB (International Baccalaureate) program starting this fall (2016).
Middle and High Schools
(East Middle School is located at 1776 3 Mile Rd and the TC Central High School is at 1150 Milliken Drive)
The Middle schools house 6-8 grades with the two high schools serving the 9-12 graders. Central High School is an academic award winning school with a complete offering of performing arts and athletic programs for all range of student interests.
Downtown Traverse City and the Boardman Neighborhood
Our family has sat on our front porch many nights and marveled at just how lucky we are to live in such a vibrant and peaceful small town. Urban living in the quiet ambiance of Northern Michigan. I am reminded of the Dr. Seuss book "And To Think That I Saw It on Mulberry Street" as the array of summer and winter entertainment activities unfold in front of me. Even backyard movie night for the Boardman neighbors!!
Restaurants within Walking Distance
A nationally recognized "foodie destination" Traverse City has walkable dining and drinks that can be accessed by foot from nearly anywhere in the downtown neighborhoods…(Boardman, Central, Old Town, etc.…)
Amical
4.6 (75) · $$ · Mediterranean
Acclaimed space for European fare offers seasonal & themed menus amid bright, bistro-style decor.
229 E Front St
Bubba's
4.4 (173) · $$ · American
Bar/eatery known for unique burgers & diverse beer options plus daily happy hour on food & drinks.
428 E Front St
Red Ginger
4.3 (76) · $$ · Fine Dining Restaurant
Upscale, chef-owned spot offers small plates of light Pan-Asian cuisine & signature cocktails.
237 E Front St
Opens at 3:00 PM
Sorellina
3.6 (21) · Italian
120 Park St
Opens at 4:00 PM
Minervas Restaurant & Bar
4.1 (15) · Grill
Casual restaurant & bar in the Park Place Hotel lobby serving all-American eats & breakfast.
300 E State St
Georgina's
4.3 (75) · Chinese
Intimate, brick-walled eatery with creative Latin & Asian fusion dishes, plus burgers & salads.
236 E Front St
State Street Grille
3.9 (30) · $$ · American
Sports bar serving local brews & American fare in a lively space with big-screen TVs & a patio.
221 E State St
The Towne Plaza
4.2 (49) · Brunch Restaurant
Farm-to-table eatery with a charming outdoor seating area serving pork-centric meals.
203 Cass St
The Cook's House
4.3 (30) · $$ · American
Petite, chef-owned destination for sustainable fare in an understated space, plus cooking classes.
115 Wellington St
Opens at 5:30 PM
Bistro Foufou
4.2 (13) · Bistro
118 Cass St
Opens at 4:00 PM
The Franklin
4.2 (36) · Restaurant
160 E Front St
Opens at 11:30 AM
The Little Fleet
4.7 (60) · Bar & Food Trucks
448 E Front St
Poppycocks
3.9 (59) · $$ · American
Dinner & drinks destination for New American fare & live jazz paired with a large martini menu.
128 E Front St
Firefly Restaurant
4.0 (99) · $$ · American
Eclectic eatery featuring small, shareable plates including creative sushi & fondue plus happy hour.
310 Cass St
Patisserie Amie
4.6 (83) · $$ · French
Quaint French bistro offers housemade pastries to go, classic brunch fare & weekend dinner service.
237 Lake Ave # 200
Harvest
4.6 (19) · American
Industrial-chic eatery serving Asian & Mexican street-style fare using local ingredients.
113 E State St.
The Dish Cafe
4.8 (36) · Restaurant
Basic spot for salads, quesadillas, wraps & sandwiches, including vegan & vegetarian options.
108 S Union St.
7 Monks Taproom
4.2 (79) · Bar
Cozy, woodsy tavern with refined American pub grub, 46 beers on tap & kegs of wine.
128 S Union St
Opens at 12:00 PM